BassGirls International Digest & Directory is now conducting interviews for publication on the site. Simple profiles may also be submitted if you prefer.
If you would like to be considered for an interview (by email), please let us know by sending an email with BASSGIRLS INTERVIEW in the subject line to editor @ bassgirls.com or bassg @ eircom.net

Thank you!
Bedroom bassists cannot be considered unfortunately - only those who actually play bass in public.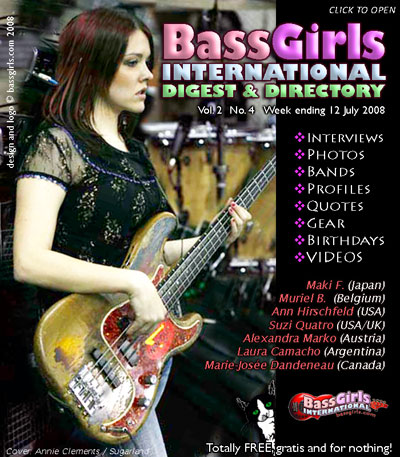 WHAT'S NEW THIS WEEK ON BASSGIRLS.COM?
Birthday girls . . .

30th June - Anna Reinoso & Beth-Ami
JULY
4th: Terruta-Guerreiro, Midus
5th: Becca Leander
6th: Kristin Gdula & Lani Ford
8th: Karla Brazel
10th: Ana Jelic & Michelle Weinberg
. . . all together now! 'Happy birthday to . . ."
Download this week's cover HERE!