Rochelle Isola
Boca Raton, Florida, USA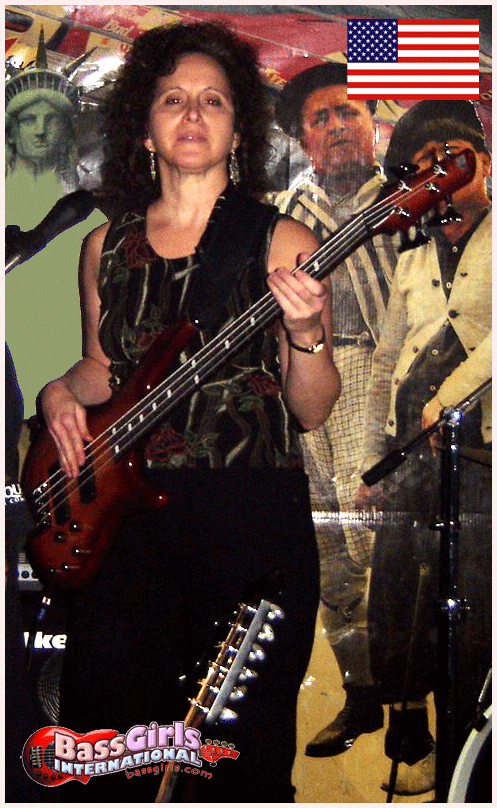 Birthday: Please see Birthdays page

Where were you born?
I was born in New York, USA.

Do you come from a musical family?
My dad was a pharmacist, but played the piano all his life on the side in clubs, restaurants, bars, etc.

What was your very first stage appearance?
It wasn't too long ago, Mars Music Store, Weekend Warriors Show 2002. First paid gig appearance was June 18th 2004.

Which bassist do you most admire?
Carol Kaye is the bassist I admire most.

Tell us about your gear.
First, a Fender Jazz bass, the best, but heavy. Now it's an Ibanez Soundgear SR900 active bass. My amp is a Gallien-Krueger 1001RB with a Hartke cabinet.

. . . and your current band?
Current band is called Band A Pirates. We are a trio and play classic rock-alternative newer songs.

What other bands have you played with?
My other band was called Phil Hull and Phrenzzz. Also played classic-rock-alternative. We were a four-piece.

Apart from USA, which countries have you played in?
Unfortunately I never played out of the country. I've been to Europe and would jump at the opportunity to play there.

Do you have a webspace?
Just a myspace page - myspace.com/106728567

"Never let anyone tell you that you are too old, too young, not good enough, etc., to pursue whatever dreams or passions you may have. Just stay focused, keep on practicing and learning, and you are bound to reach your goal!" ~ Rochelle, June 2008.